Veehouderij
- Oost-Vlaanderen
Nutriad
Hoogveld 93, 9200 DENDERMONDE
+3252409596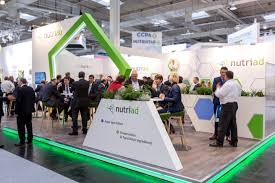 Kernactiviteiten
The global population increases 50% in the next 4 decades. Livestock production and aquaculture has never been more challenging. Limited availability and changing quality of raw materials challenges intake, growth and performance. Growing customer awareness and governmental regulations, especially related to health & safety, challenge your business.

As manufacturer of state-of-the-art feed additives for more than 50 years we know the agricultural market. Still every day we are passionate about our work. Our ambition is to be our customers' first choice in palatability, mycotoxin management and digestive performance. Every day our people work on finding ways to improve your production.

Being active in more than 80 countries, we understand the global issues thoroughly.
The experience of our dedicated local product specialists is available for you. In direct contact with you, we create the best practical solutions for today and tomorrow.
Over ons
From product development to manufacturing technologies and problem solving: our constant aim for
continuous improvement is supported by dedicated technical facilities and
laboratories in Belgium, UK and USA.

Our production facilities include the most modern techniques for spray drying, spray cooling &
coating and emulsion technology. All of them developed to improve and support the functionality of
our products. Different manufacturing processes protect active components during feed
production and allow target release: delivering nutrients where and when it is needed
most.

We take our responsibility in the global food chain very serious. Every ingredient we
use is carefully selected to meet the highest quality standards. All of our manufacturing facilities
operate to the highest possible quality standards and systems that are independently audited to
ensure full traceability and product integrity.
Werken bij ons
We manage our business with strong support functions in our Belgian headquarters and local presence in EMEA (Europe Middle East and Africa), APAC (Asia Pacific), NAMX (North America, Mexico and Central America) and South America. If you are interested in a career at Nutriad, share your cv with us